HISTORY,
WE MAKE IT AND LEARN FROM IT.
– Since 1874 –
Driven by a strong heritage of excellence, our goal is to create meaningful solutions for clients through proven services and expert employees. We do this by working side-by-side with you and your company, laying the groundwork for a successful outcome and meeting your project goals.
1874
Our humble company started as a bookseller and bindery shop (E.F.W. Zimmermann Bookseller and Binder) by Edward Fredrick William (EFW) Zimmermann originally located at 815-817 New York Ave. in Sheboygan, WI.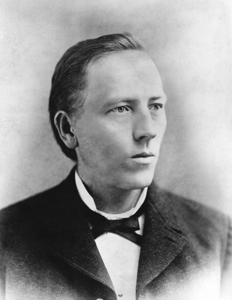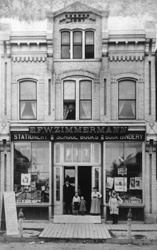 1916
The company grew to include printing and was taken over by Edward's son, Egbert, in 1916.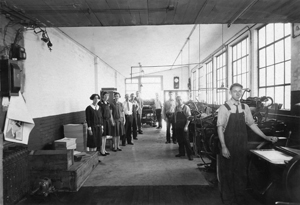 .

1920
When Egbert died in 1920, his wife, Clara, and brother, Gerhard, took over the company's operations.
Gerhard is pictured below.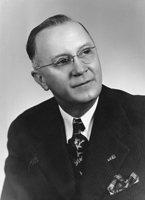 1921
At the onset of Gerhard's tenure, he was a teacher at Milwaukee Technical College (now the University of Wisconsin – Milwaukee). For about a year, he took the train daily from Milwaukee to Sheboygan to help Clara run the business. Gerhard ultimately left teaching and bought the company from Clara in 1921.
1927
Gerhard incorporated Zimmermann Printing Company.
1937
The company moved from its New York Ave. location to a new building at 708 Niagara Avenue. The building was 100 feet long and 77 feet wide and was decorated with a buff colored glaze tile. The company had nine employees at the time.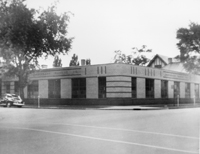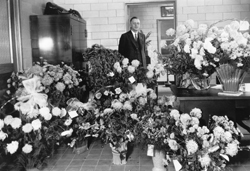 1953
Richard Zimmermann joins Zimmermann Printing Company.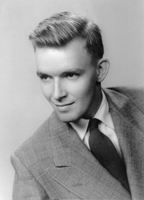 1955
Zimmermann Printing Company purchases its first offset press.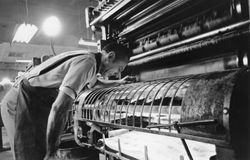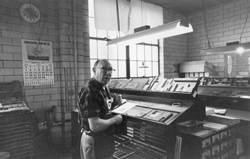 1962
Upon his death in 1962, Gerhard's son, Richard, becomes president
and sole owner of Zimmermann Printing Company.
1974
Zimmermann Printing Company moves to its present location at 3418 Washington Avenue. The company continues to prosper and runs single, two-color and four-color work on its single color Miehle presses.
1983
Richard's son, David, joins the company.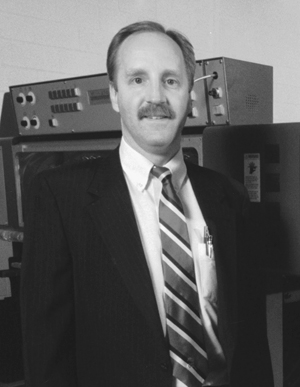 1984
The Company runs all multi-color work on its single color presses until 1984 when the company purchases its first two-color Roland 40″ press.
1988
The Company adds a second Roland 40″ two color press.
Additional bindery equipment for folding and saddle binding is added.
1990
A 15,000 square foot addition is added to the plant for 45,000 total square feet.
1992
The company has expanded considerably since its beginning. Besides enlarging its quarters over the years, in 1992, Zimmermann Printing Company purchases Schroeder Printing Company (founded in 1883), which is located in Cedarburg.
The company continues to run more four and six color work on its two color presses, thus a six color Heidelberg 40″ press is added to allow the company to be more efficient at this work.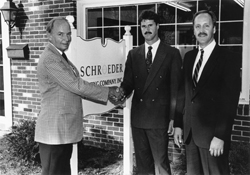 1995
Electronic prepress is added allowing the Company to perform all high end scanning and produce punched plate ready films in house.
After a long development cycle, a new logo is unveiled.
2005
First high-end color digital press added.
First project run on the new digital press is variable data with mailing.
2007
High-speed black and white digital press is added with in-line binding capabilities.
2008
In an effort to continually move the company forward with technology, web development capabilities for customized print ordering website are added, making ordering from Zimmermann Printing Company simple and convenient for clients.
2010
Additional web development and cross-media capabilities added.
2011
Automated mail insertion equipment added to expand mailing capabilities.
To further individualize client marketing efforts, Zimmermann adds image personalization, which combines data and imagery to produce unique and compelling personalized images. This technique is linked to higher return on invesetment when coupled with direct mail and email marketing.
2013
Zimmermann Printing Company updates its brand to Zimmermann Company, preserving its status as an offset printer, while giving greater focus to its other services.
Zimmermann Company develops Pixelfire Studio to offer design services that cover both print and web. This expanding the company's ability to help clients from project concept, to design and ultimately the final production, all under one roof.
Zimmermann Company adds wide format printing to its services, combining a century of expert printing experience and the latest in wide format printing technology. Zimmermann Company is now capable of printing on nearly any surface.
Added an iGen 4 digital press to our lineup, replacing our iGen 3.
2014
Esko digital cutter added to wide format capabilities.
Cuts flexible and rigid material into any shape.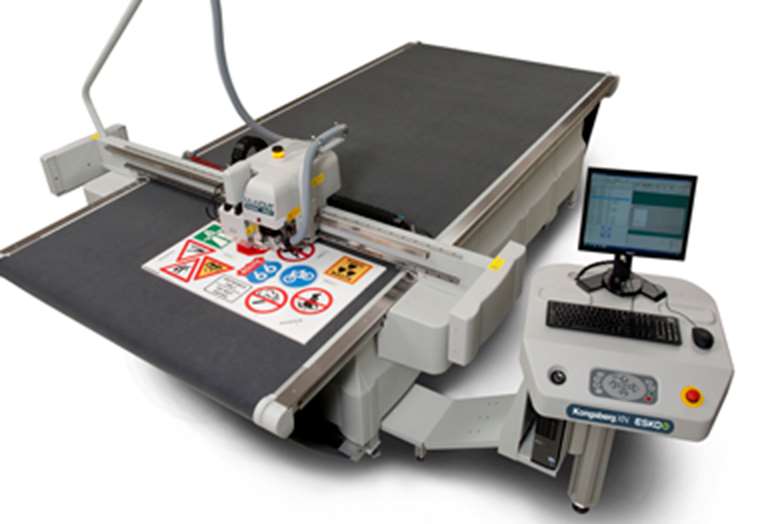 2015
Exterior building facade refreshed and logo sign updated to new identity. The sign uses modern, energy efficient LED lights. The sign also uses a sensor to keep it lit only when conditions are dark enough.
2017
Large format folder with presser/stacker added. Increased productivity and better quality to downstream operations.
Installed new 40″ Heidelberg press with coater to expand in-house print capabilities and better accomodate an increased volume of work. The press allows for advanced color and ink controls and improved quality and consistency, giving Zimmermann more options to offer clients.
Bill Zimmermann joins the team as a Partner, ushering in the fifth generation of family ownership.
2019
Replaces digital equipment with Heidelberg/Ricoh 4 color, 5 color (white, pink, clear, silver), and black and white digtial equipment.
2022
Bindery equipment added to increase productivity and reduce potential repetitive motion injuries.
HOW CAN WE HELP?
Speak to an expert about your next project.